Rose In Bloom's owner, began her career as a dress and sportswear designer. In 1995 she decided to pursue her growing love of garden design, enrolled in UCLA's Landscape Architecture program and never looked back.
As she says, "There is nothing more rewarding than taking an idea and a plot of land and turning it into my client's own personal Shangri-La. I want them to love it so much they never want to leave, just sit and say, 'AAAHHHHHHHH!'"
Since Linda began her career, she has designed gardens for dozens of homes, condominiums, office buildings and restaurants.
She is a member of The Garden Conservancy, The Mediterranean Garden Society and The Association of Professional Landscape Designers. She continues her education into the latest aspects of sustainable gardening and new plant species at the LA Arboretum and Theodore Payne Foundation.
Installation & Maintenance
Guillen Landscape
Jaime Guillen
How We Work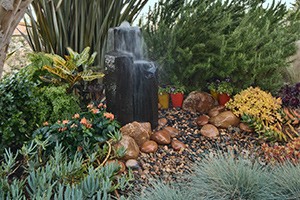 Rose In Bloom Garden Design is committed to bringing the beauty and tranquility that flow from nature to both its individual and commercial clients.
Regardless of the size of the project, whether it's a terrace, a residential garden, an estate or a large commercial property, we believe all of our clients deserve our total commitment. We work to fully understand what they wish to accomplish and respect the budget with which they have to accomplish it.
Our goal is to provide extraordinary design, brilliantly executed, that enhances both property and architecture, going beyond our client's expectations to provide a sense of comfort, luxury and, of course, nature.
In addition to our gardens being beautiful, they are designed to be eco-friendly and sustainable.